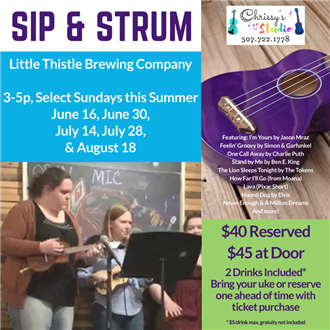 Thank you for your interest in Sip & Strum! We are excited to offer this fun, 2-hr class to get you started on the ukulele!
We would like to thank Little Thistle Brewing Company for hosting us this summer.
June 16 - The Lion Sleeps Tonight & One Call away
June 30 - Stand by Me & I'm Yours
July 14 - Feelin' Groovy, Hound Dog, & [A Mystery Song]
July 28 - Island Night! How Far I'll Go & Lava
August 18 - Greatest Showman Night with Never Enough and A Million Dreams
Please fill out the information below! You can register more than one person at a time. ☺
You will be charged for one class per person upon completing this form; for additional classes, you will receive an invoice. If you register for all the remaining 3, you will receive a $10 discount. There is a 3% processing fee for online payments after the initial deposit.
* Registration fees are non-refundable, but are transferable to another studio event or class.