We're excited to be strummin' along with you!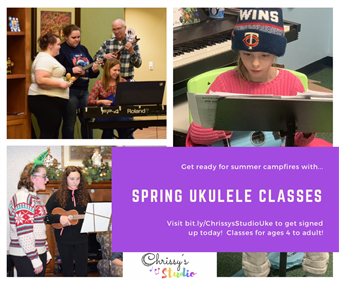 We have classes for 1st-6th graders, 7th-12th graders, adults...and in January we added Uke + Me for our pre-K and K friends and their adult!
Classes start Saturday April 6:
Uke + Me: Saturdays at 9am

Beginning Adult, Teens, & Youth Options




Saturdays at 9:45am
Sundays at 12:45p
Tuesdays at 4p
Tuesdays at 8p

Already know some uke? You could be ready to join the continuing students!

Youth - Wednesdays at 6p
Adults & Teens - Wednesdays at 7p + some Open Mic Nights at Forager (Mondays at 7:30p)
Please give us some basic info, and we will get back to you within 48 hours to talk about scheduling and finish your registration!
Call 507.722.1778 or head over to the Contact Us tab if you have more questions before signing up!
You can complete the registration process on your own by going to the Lessons & Class Registration Page. (That page will take your $75 deposit).